Gal's Diner is located in the downtown district of
Port Simon
on the
UHR
server. It was built in the early days of the map while there was not much else built around it. Now, it is rather closed inbetween two large towers, The Avis Memorial Needle Observation Deck, and another large white brick tower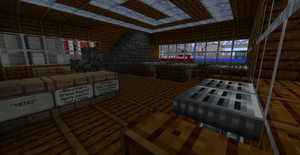 The resturant has a wide variety of food and 3 floors of seating. The base floor has many tables and nice windows along with a fountain in the entrance. The second floor has just one table to seat a large group or host a meeting at, along with tvs and something special for friday nights. The roof has various stone tables and a nice view of the streets below, along with a small shrine on the corner.
Ad blocker interference detected!
Wikia is a free-to-use site that makes money from advertising. We have a modified experience for viewers using ad blockers

Wikia is not accessible if you've made further modifications. Remove the custom ad blocker rule(s) and the page will load as expected.